Lot of Australian people have been fighting with financial issues. They are fighting against financial stress, sleep loss, solitude, and some other problems.
What Defines Financial Stress?
The Australian Bureau of Statistics defines financial stress as
Financial-stress experiences and
Missing-out experiences
Here are some examples which define Financial-stress experiences:
You spend lavish amount than you receive
You are unable to pay due bills
You are not able to raise $2,000 for a week for the most important tasks
You seek financial help from your family, friends and community groups or welfare consistently
Here are some examples which define missing-out experiences:
You cannot afford parties or outings once a month with your close ones
You cannot spend on your annual vacation
You find yourself incapable of covering any recreational activities
The stats from the Financial Stress Index reveal some facts about the financially stressed Aussies: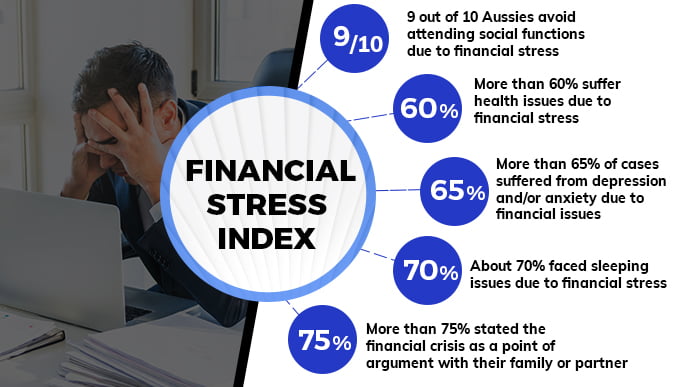 Top Tips to Deal with Financial Stress:
Are you one suffering from some sort of financial stress? Here are some tips on how to heal from financial stress and its causes.
Start Saving Money: Savings matter a lot, even if you start with a small amount on a regular basis. This can help you in a long way. As per a survey, around 45-49% Aussies save a very less amount annually. Here are 29 tips to save money.
Set and Plan a Budget: A Budget can help you reduce financial stress. It is also the best tool to control finances. A budget allows you to manage your expenses better. A properly defined expense plan makes you cover your immediate expenses. It even helps with the retirement plans and saving goals.
Focus on Your Goals and Buying: Set goals for your financial well-being. Going on holiday, buying a new car and a new house is not financially viable within a short period. Setting goals, priorities, and managing them is essential.
Consider the Importance of a Backup Plan: Backup plans have always been helpful. Consider backup plans like life insurance, health insurance, and contents insurance. These are important and helpful should any unexpected things happen.
Start with an Investment: Both short and long-term investment plans provide good interest rates. Today's investment can be fruitful for tomorrow. Consider investing in pension plans, policies, equity market, and government plans.
Get an Emergency Fund: The emergency fund is the money you earn and keep it safely for any financial emergencies. It also becomes easy to plan and spend the budget. At first, it may seem difficult to start with an emergency refund. You can start with a small amount like $5 or $200 from your monthly/weekly paycheck. You can even sell the unused items in and around the house to add to the fund. When you know you already have money in the bank, you feel safe and financially secure.
Consult a Financial Advisor: A Tax Accountant, or Financial Advisor can help you plan your monthly income, spending, and savings. A Financial Advisor or a Tax accountant can help you know your money better. He/She can even help you with financial advice and tax matters. He/She can also help you manage expenses and savings efficiently, aligned with the Australian Taxation system.
By controlling expenses and saving small amounts constantly, you can change your near-future. Get advice from a financial or a tax accountant on a consistent basis.
Think About a Good Change: Financial issues can arise if you overlook your income earnings, spending, or both. If your monthly income cannot cope up with the current bills, you can think of some change. You can go for a higher qualification for a better job. If you still are facing the same, you can attend a group called Shopaholics Anonymous. This group helps you deal and heal with the financial crises and effects.
Accepting change is not easy at all. But a small step can make a big change. It gradually helps you move forward with ease and stick to the necessary changes.
Find Positive Aspects in every situation: This makes a big impact when you deal with any kind of stress, anxiety, or depression. This might be a solution, but it can help you overcome financial stress every day. You can start by tracking the progress of your financial goals. Find positive aspects of whatever you start.
Start your day with a healthy exercise and food. It is important to focus on the solution of the problem rather than digging into the core. It is important to take care of yourself, both physically and emotionally. If you are not continuously worried and anxious about life, you can make it big.
Hope these tips turn out helpful in making you understand about financial stress. And more importantly, I hope they help you how to deal with it.